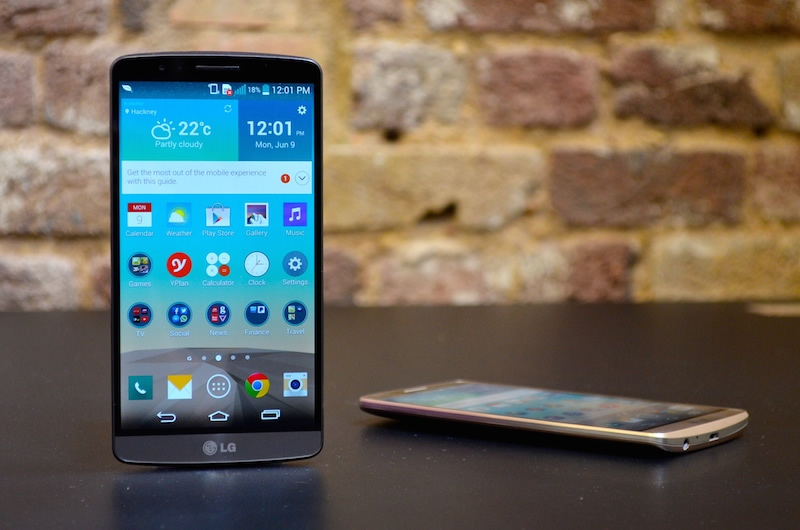 LG has brought out its latest flagship device the LG G3. This smartphone has a large 5.5in display and a huge Quad-HD resolution that blows its rivals away. Plus it has an amazingly speedy laser focus on the rear snapper, which focuses almost instantly.
In competition are Sony's Xperia Z2, the HTC One M8 and the Galaxy S5 from Samsung – can the G3 stand up to these big boys? We aim to find out with this review – please note our review device had a retractable TV ariel as it was a South Korean model. The phones sold in Britain and Europe will not feature this.
LG G3: First impressions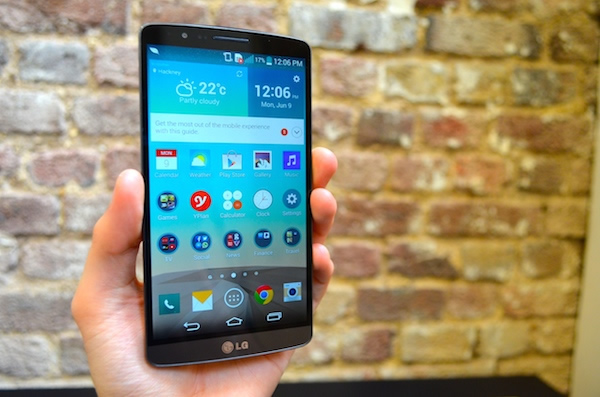 It might look like it, but in actual fact the G3 is not made of aluminium. Yes, it looks like brushed aluminium, but its body is plastic, covered with a very realistic metallic layer. On the plus side though, unlike the vast array of glass-backed devices, which attract fingerprints like nobody's business, the LG stays clean.
We had the dark grey model to review, which looks great – we even like the gold model, although the white version manages to look somewhat plasticky.
The screen measures 5.5 inches, and LG has kept the bezels as small as possible to ensure it doesn't have to create a huge device to get a large screen. The display is half an inch bigger than those on the One (M8) and Galaxy S5 and yet the phone is no bigger and is actually lighter. To increase the comfort factor, the rear is curved, which means it sits well in the hand. Typing with one hand is still tricky though.
One thing that is easier though is the power and volume key – LG has placed them on the back of the device, which makes them easier both to find and to press. It takes a while to get used to this, but once you have it works well.
LG G3: Screen star
Besides, it's hard to take your eyes of the screen, with its 2560 x 1440 resolution and massive 538 ppi. It really sets the handset apart from all other rivals; you won't find another phone offering the same specs – unless you head to China and buy a Vivo Xplay 3S orOppo Find 7.
Mind you, it could be argued that we don't really need a screen this good – with the naked eye it's hard to pick out individual pixels on a ppi of 330 – and place it next to one of its rivals and the display doesn't actually look twice as good. Having said that, we tried playing 4K videos on the phone and they looked amazing – far better than any we've seen on any other mobile device.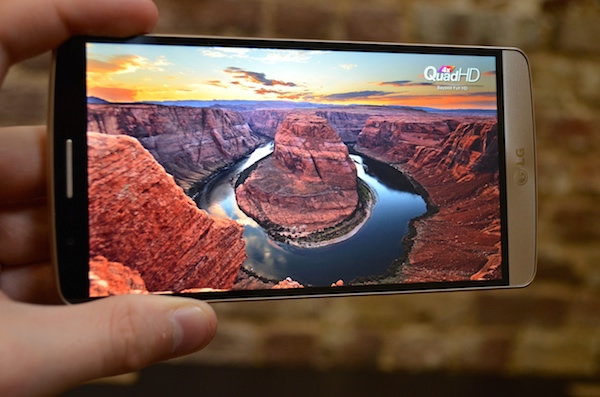 With a display of this size, the G3 hovers between phablet and smartphone, but it does feel quite compact – probably due to those small bezels. And it looks great - it's crisp, bright enough to read outside in the sun, and colours are well saturated and natural looking. It deserves the hype.
We were afraid that a high-res display would take its toll on battery life, but the G3 managed a full day of average or heavy usage. There is a battery-saving mode, which fires up once the battery gets to 30%, but in a week of testing we only saw that kick in once.
LG G3: Software
The G3 runs on Android 4.4.2 KitKat, to which LG has added a few tweaks, making it look simpler and making it easier to work. It ties in with the "simple is the new smart" message LG has pushed with the G3. Rather like iOS 7, the interface is flattened and has muted colours, with the intention of avoiding any criticism of looking too childish.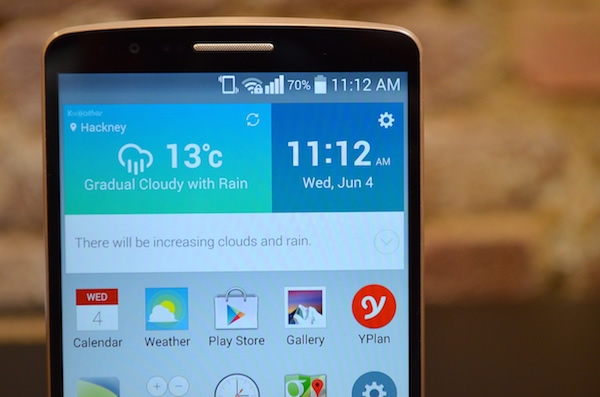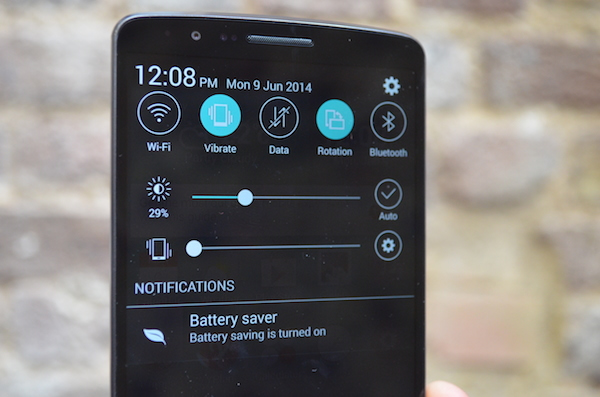 Another tick in the 'making it simple' box is the fact that users can delete LG applications – not something most manufacturers allow – they will only reappear if you do a factory reset. Smart Notice is another feature unique to the G3 – rather like Google Now, it offers advice based on calendar events, tells you what the weather is going to be like and offers tips on using the device. You don't just get a 'sunny and warm' forecast; instead it will say it will be 'clear without a cloud in the sky'. It can also remind you to call back someone whose call you missed, and suggest you add a phone number to your address book. You can remove it if you don't want it though.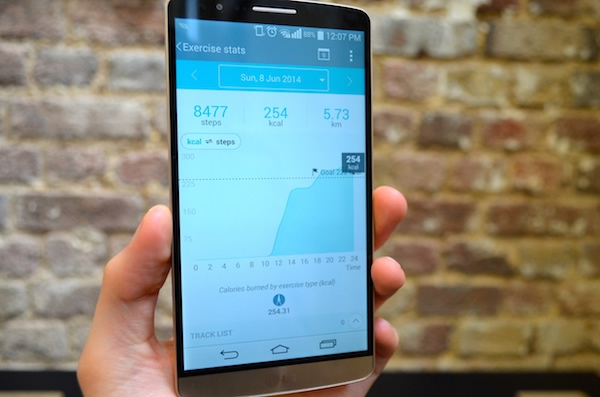 To the left sits a home screen with only two widgets. One is LG Health, which will log your running and walking. The other is Smart Tips. Remove this and the whole page goes with it, along with LG Health.
Performance is provided by a quad-core 2.5GHz Snapdragon 801 processor teamed with 2GB of RAM and equals the likes of the HTC One (M8), Samsung S5 and Sony Z2. Another model with 3GB of RAM and 32GB of storage is being produced but won't be available in the UK in the very near future. However, the 16 GB of onboard memory can be expanded using the microSD card slot.
LG G3: Snapper
LG has certainly maintained its "simple is the new smart" stance when it comes to the camera app. You'll find no manual settings as such – yes you can adjust ISO, white balance and brightness, but that's it. You won't even see a shutter button. Focus and take shots by tapping on the screen. Where LG has gone all-out is with a laser-guided autofocus. The infrared 'laser' is able to focus in 276 milliseconds – LG reckons it is faster than the 300 milliseconds it takes us to blink.
It is quite amazing, it really does focus quickly – and it's pin-sharp too. It is also far better able to focus in low light, something most phones' cameras struggle with.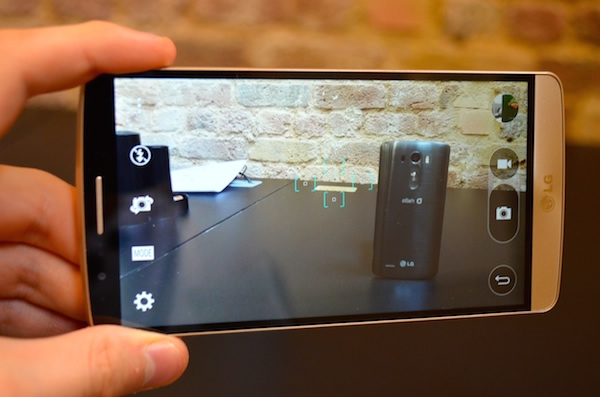 The snapper is a 13MP model, although default is set at 10MP, and it has the facility to record Full HD video, Ultra HD video as well as 120-fps slow-motion HD video. If you want to take snaps with blurred backgrounds you can use Magic Focus, which allows you to blur foreground or background after you've taken your shot. This is another thing the G3 seems to do better than many rivals.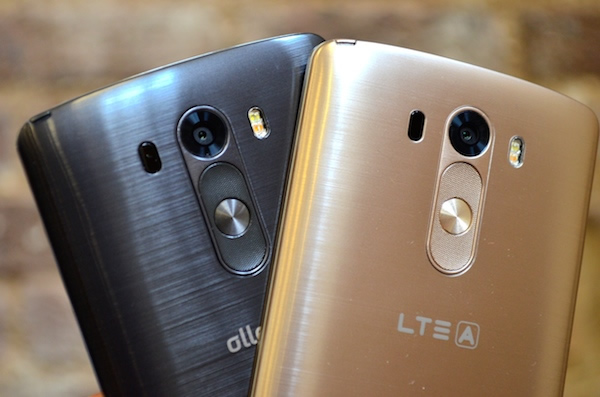 LG G3: Verdict
LG has produced a phone that has taken on its well-known rivals and blown them out of the water. The G3 boasts the best screen available on a Smartphone, plus a powerful processor, a super-speedy camera, removable battery and some really clever tweaks and features.