We all knew it was on its way, and what an entrance it's made – the HTC One (M8) is the update to the original HTC One, which won plaudits from critics and public alike and had awards coming out of its virtual ears.

This already looks like being one of the best handsets of 2014, thanks to its five-inch Full HD screen, all-aluminium body and dual-lens rear 'Ultrapixel' snapper.

Under the hood sits a quad-core Snapdragon 801 chip, along with 2Gb RAM and a clock speed of 2.3GHz – this handset is ready to challenges the likes of Apple, Samsung and Sony. And we expect Samsung and Sony to be unveiling their own latest Android offerings very soon.
Better by design

You can see this is a quality handset at first glance. HTC compares it to 'a premium watch or piece of jewellery' and they're not wrong. The chassis is all aluminium – in fact HTC says 90% of the handset is made from aluminium (last year's device was 70% aluminium). This of course makes the body very rigid and immune to flexing.

The back cover is the base for the display and other components, which are all attached to it – and the finish on the phone is just amazing. There's a hairline finish on the gunmetal grey of the phone we tested which reminds us of the speedo on an Aston Martin or a pair of cufflinks in brushed aluminium – it just oozes class and quality.

Sitting at the top and bottom of the 5-inch display are a pair of plastic panels, which are home to Boomsound speakers, which face the front. It probably went against the grain for the designers to use plastic but it does conduct soundwaves better than metal. The panels are dark in colour, which looks good.


Those speakers are really loud – more than you'd find on most other smartphones or portable devices. We fired up Real Racing 3 at home and filled our living room with the sound of a Porsche 911's exhaust – drowning out the sound of the TV. But the sounds are kept under control thanks to amplification tricks and the speaker chamber design, which means you aren't overwhelmed by bass.

Size-wise the One (M8) is a bit bigger than the original, but not really enough to notice. It weighs 160g, is 9.35mm thick and measures 146.4 by 70.6mm. It's never going to win any prizes for being petite but nevertheless it will slip in a pocket and can be used one-handed. If it didn't have the heft it does it wouldn't feel like the quality device it is – and at £530 SIM-free, it needs to feel like a top-of-the-range phone.

While we love the design of the One (M8) we do hope smartphones don't start to grow as this would be hard to hold in one hand if it were any larger. And that aluminium body does mean that it can feel a little unstable if you have cold hands and are standing up on the tube, for instance, as its polished back can feel rather slippery. We suggest you opt to use the DotView Case (more to come on that later).

There's a volume rocker sitting below the microSD card tray on the top right edge of the device, along with a microUSB port and headphone jack on the bottom. The power button is on the top, a non-SIM card tray is on the top left – plus there's an infrared blaster, which can be used to control your TV should you wish.
Display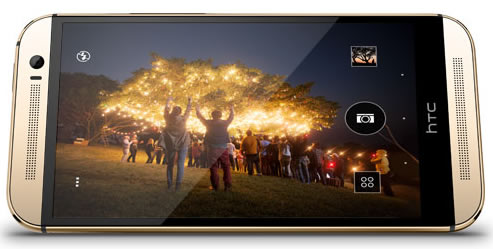 The 5-inch screen is 0.3 inches larger than on the original One, but it has the same 1920 x 1080 Full HD resolution. While pixel density is a little lower it is still more than 400 per inch, which gives the user a really crisp image, sharp application icons and smooth text.

Sharing that YouTube video is easy as viewing angles are great – coupled with the excellent Boomsound speakers they won't have trouble hearing it either. The backlight keeps the screen really bright too should you need it – in fact the display is so good we fail to see how HTC could manage to make it any better.
Battery life has been improved by upping capacity to 2,300mAh to 2,600mAh and including two more levels of power savings. The first one saves processor usage, cuts screen brightness, halts the vibration alert and switches off mobile internet connection when the display is locked.

You can set the second, more extreme, level to activate should battery levels drop to 5, 10 or 20 per cent. This means you can only use text, email, phone, calculator and calendar.
Performance

It was obvious the One (M8) would be speedy, with that 2Gb of RAM and 2.3GHz, quad-core chip under the hood – and it really is. It's most noticeable when playing intense 3D games such as Real Racing 3, which was ultra smooth, firing up quickly, and disappearing just as speedily when we switched it off. The handset does get a tad warm when playing games, but no more than we've encountered elsewhere and we don't think it's anything to worry about.

Surfing the net is a speedy experience too – the phone is really responsive to scrolling and zooming – even on complicated pages – and those with HD video embedded load up as quickly as on a desktop. Our only minor niggle is the three onscreen navigational buttons, which we'd like to see relegated to the screen bezel or hidden when one is scrolling down a page, but it's a minor gripe.

One problem we did have with the original One was that storage was not expandable, but HTC has seen sense and included a microSD card slot, which means storage can be upgraded up to 128GB – that's on top of the 16 or 32GB of internal memory you have depending on how much you have to spend on your phone.
Seeing Sense
HTC has added its Sense 6 user interface to the One (M8), which is layered over Android 4.4 KitKat. This is the sixth version of Sense, and Blink Feeds has been kicked out of its central position and placed on the left of the Home screen. Blink Feeds is a collection of tiled Tweets, news stories and Facebook updates – it's handy if you want to pass a few minutes waiting for a train or in a queue somewhere.

Back again is the Zoe video highlights – it's been improved with the three-second limit removed, although we didn't get to test it as it wasn't ready when the handset launched but HTC says it is due in the Play store soon.

The Fitbit app is also preloaded, so you can pair it with one of HTC's fitness trackers, which you wear on a wrist – but if you don't own a Fitbit the handset's sensors will track your running and walking and offer basic details such as calories burned each day.

Simple has been HTC's byword with the software on the One (M8). They've managed to avoid filling it full of gimmicky features and instead concentrated on producing a phone that anyone can pick up and use easily.
Snappers

HTC brought us the Ultrapixel camera last year – a device that captured images with 4-megapixel resolution, but used larger pixels, which captured more light and made it more effective in low-light situations.
This handset also has the Ultrapixel technology, but there is another rear snapper, which allows you to adjust the focus of a photo after you've taken it. The second lens takes all the details of the photo and then allows the user to add an out-of-focus blur, creating the same depth of field capabilities you'd see on an SLR camera. So you can take portrait photos where the background is blurred, allowing all the attention to focus on the subject. But what it can't do is make an out-of-focus image sharp, so don't think it will make up for any shortfall in your photography skills! But a reasonable image can really be improved by this feature – just wait for all the depth-of-field shots to start appearing on Instagram.
In general, the snappers take great shots – although some may have an issue with the four-megapixel limitation. It does mean that zooming and cropping photos is limited – but for most people who only share snaps on social media it won't be a major issue.
If you want to take selfies, the front-facing snapper is a 5-megapixel model, and while it doesn't benefit from the Ultrapixel tech, it still delivers great results.
Join the Dots
HTC has introduced the DotCase, which entirely covers the back of the handset, and has a mesh front, which lets some information from the screen bleed through. It has a retro feel to it – check out the local weather and time, which appear in an eight bit-style font, taking us back to the early days of computing. The display actually switches to this view when the handset senses that the DotView case has been connected. So you can see that weather and time info through the front, and you can activate the phone through the case – swipe down, up and left to answer calls and deal with notifications.
If you want to answer a call, just pick up the handset and hold it to your ear.
Our conclusion
The One (M8) is not just a gorgeous handset. It mixes top-class design with power and speed to make for an awesome combination. We were concerned at first that it would be a case of style over substance, but performance wise the One (M8) can stand up to the likes of Apple and Samsung with no problems. Sure, the snapper has that 4-megapixel limitation, but it still adds up to a phone that will be hard to beat.
With big screens, fast processors and great features standard on some phones, manufacturers are really going to have to work hard to ensure their handsets offer something new. HTC has firmly placed the ball in the other phone makers' courts with the introduction of the HTC One (M8) and we can't wait to see what Samsung and Sony's next moves will be.