Three Advanced Plans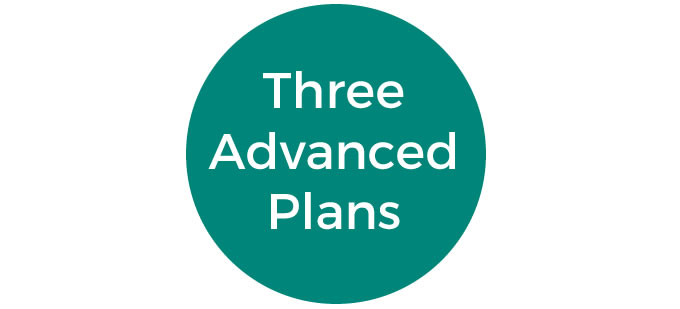 A Three Advanced Plan is an all-inclusive plan, which not just gives you minutes, texts and data but also a range of premium extras only available on Three.
All plans are 5G Ready at no extra cost and come with Go Roam, which allows you to use your allowances abroad in 71 international locations at no extra cost.
You can also use your data to create a personal hotspot to tether other devices, such as a tablet or laptop, and get them online when there's no Wi-Fi. You can use all of any or all of your data tethering, so there are no personal hotspot limits even if you have an unlimited data plan.
Advanced Plan Benefits

✔

Tethering (Personal hotspot)

✔

✔

4G at no extra cost

✔

5G Ready at no extra cost

✔
✔

✔

✔
Advanced Plans also include free calls to Three customer services from the UK and EU countries, free Wi-Fi on the London Underground and support for 4G Super-Voice. They come as Pay Monthly or SIM Only plans (both of which are detailed below).
You can also set limits on your voice and data use to help control your spending, and Three Advanced Plans are flexible, allowing you to purchase add-ons (also detailed below) and even change your plan when you need to.
Roaming Destinations
Advanced plans come with free roaming in 71 destinations, including countries in Europe and Around The World.
Australia

Austria

Belgium

Brazil

Bulgaria

Channel Islands

(Includes Jersey, Guernsey, Herm and Sark)

Chile

Croatia

Colombia

Costa Rica

Cyprus

Czech Republic

Denmark

El Salvador

Estonia

Finland

(includes Aland Islands)

France

(Including Corsica, Mayotte and Reunion)

French West Indies

(Including French Guiana, Guadeloupe, Martinique, Saint Martin, Saint Barthelemy, Les Saintes, Marie-Galante and La Desirade)

Germany

Gibraltar

Greece

Guatemala

Hong Kong

Hungary

Iceland

Indonesia

Isle of Man

Israel *

Italy

(Including Vatican City, Sardinia and Sicily)

Latvia

Liechtenstein

Lithuania

Luxembourg

Macau

Malta

Netherlands

New Zealand

Nicaragua

Norway

Panama

Peru

Poland

Portugal

(Including Madeira and the Azores)

Republic of Ireland

Romania

San Marino

Singapore

Slovakia

Slovenia

Spain

(Including the Canary Islands and Balearic Islands)

Sri Lanka

Sweden

Switzerland

Uruguay

United States

(including Hawaii, Puerto Rico and US Virgin Islands)

Vietnam
Pay Monthly Advanced Plans
A Pay Monthly Advanced Plan gives you both an allowance of minutes, texts and data (plus all the other extras that come with Advanced Plans) and a brand new handset. These plans are 24 months long and are great if you want a new phone. Check out below to see an overview of the different allowances you can select from.
You can choose between 500MB, 1GB, 2GB, 4GB, 8GB, 12GB, 30GB, 100GB or Unlimited Data and 200, 600 or unlimited minutes, with all plans also including unlimited texts.
Your monthly charge will of course be higher the more data you choose and the exact cost will depend on what handset you choose and how much you pay upfront, but it will be more expensive than an equivalent 'normal' or Essential Pay Monthly plan, as it comes with extras like Go Roam Around The World (roaming in 71 destinations).
SIM Only Advanced Plans
SIM Only Plans give you all the same benefits as Pay Monthly Advanced Plans but without a new handset, so if you're happy with your current phone or want to buy a new one outright these are the plans for you.
As you don't get a new phone they're also cheaper than Pay Monthly plans and they're shorter term, with 1-month, 12-month and 24-month plans available.
Add-ons
While Three Advanced Plans are designed to come with just about everything you could ever want, you can also add to them. For example, if you find yourself running short on data or on your roaming allowance you can get a short term one-month add-on to bulk it up.
Three Data Add-Ons

Name

Details

Price

One Day Boost

Unlimited data on day of purchase until midnight GMT

£5

Monthly Boost 1GB

Extra 1GB of data. Cannot be rolled over to next month.

£5

Monthly Boost 3GB

Extra 3GB of data. Cannot be rolled over to next month.

£7

Monthly Boost 6GB

Extra 6GB of data. Cannot be rolled over to next month.

£9
Note that as with standard data allowances this can all be used towards a personal hotspot / tethering.
If you've used up all your data when abroad you can also purchase a Data Passport to top that up. This costs £5 each day and gives you unlimited data. Find out more.
There is also an International Saver add-on, which gets you 3000 minutes to landlines and mobiles in Canada, China, Hong Kong, Puerto Rico, Singapore, Thailand and USA for £15.32 a month.
Charges
Most things are included with Three Advanced Plans, but you will have to pay extra to call certain special numbers and directory services. For up to data information on this head to the call checker page.
Generally when you're abroad you won't be charged roaming fees, thanks to Feel At Home, but if you're somewhere not covered by the service there will be a cost. You can find details of these at the roaming page, but know that data roaming is capped by Three at £42.50p unless you ask to have the cap removed, to ensure you don't accidentally rack up large charges.
Cancellation Charges
If you wish to cancel before the end of your minumum term you will be charged a cancellation fee.
The cancellation fee is calculated as follows:
Cancellation fee = (Monthly cost x Number of months remaining in contract) - Discount of 20%
Other things to know
The Go Binge feature of Advanced Plans is only included on plans taken out from July 6th 2017 onwards. If you already have an Advanced Plan from before that date you'll need to upgrade to one with a higher allowance of minutes/data to access Go Binge - even if yours already has at least 4GB.
There are slightly different limits to your allowances when using Go Roam. You can see full details of these on Three's support page.
---
The information contained on this website has been written to assist our readers. We do not represent Three or speak on its behalf and are entirely independent of Three.