Unlimited data plans
Unlimited data SIM and phone plans on Three give you freedom from caps and restrictions, so you never have to worry about running out of data or unexpected bills again.
Three is the only network to offer truly unlimited data plans without any restrictions. A range of Pay Monthly and Pay As You Go plans are available and they all include 4G at no extra cost, unlimited tethering and free roaming abroad.
Browse Unlimited Data Plans
Can I get a SIM with unlimited data?
SIM only deals with unlimited data are available on both 1 month and 12-month plans.
Can I get unlimited data on a Pay As You Go plan?
Yes, unlimited data is available with a Pay As You Go All In One 35 bundle, which gives you unlimited data, unlimited minutes and unlimited texts for £35. This bundle lasts 30 days and you'll also get to choose a free 1 month subscription to Xbox Game Pass, Rakuten or Readly.
Pay As You Go SIM

Unlimited Data

Unlimited minutes

Unlimited texts

£35

+ a 1 month free subscrition to either Xbox Game Pass, Rakuten or Readly
How much does the cheapest contract cost?
The cheapest Three unlimited data plans are available on SIM Only and start at just £27 per month on a 12 month plan, or you can choose a flexible monthly rolling contract from £32 a month. Plans with a mobile phone included start from £31 a month, but to get a flagship smartphone you'll be looking at paying significantly more.
Which networks offer unlimited data?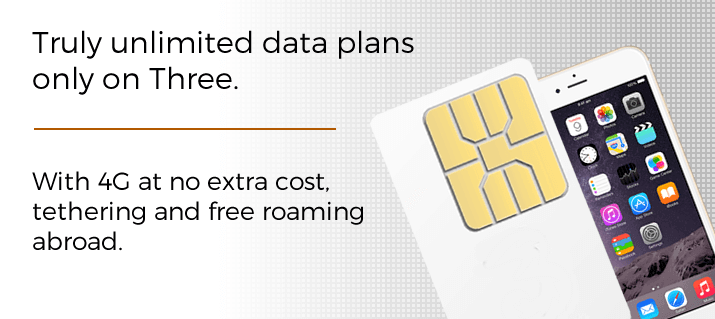 Three is the only one of the UK mobile networks offering unlimited data without any catches, so for those who love to browse the choice is pretty clear. One other is GiffGaff, who offer unlimited data add-ons, but speeds are capped after using 9GB of data to just 384Kbits/sec, between 8am and midnight, which is slower than 3G download speeds. While, Virgin Mobile offer an unlimited data SIM plan but only for existing Virgin Broadband and TV customers.
| Network | Unlimited data |
| --- | --- |
| Three | Yes |
| EE | No |
| O2 | No |
| Vodafone | No |
Can I tether unlimited data so I can share internet with my other devices?
Tethering is included on unlimited data plans. You can use any or all of any of your data allowance to tether in the UK and in Go Roam in Europe destinations.
Can I use unlimited data when roaming abroad?
Assuming you're on an Advanced Plan (which you should be if you have unlimited data) Three allows you to use your data abroad in 71 international destinations at no extra cost. However there are some minor restrictions, including the use of data, which is capped at 19GB when in a Go Roam in Europe destination or 12GB when in a Go Roam Around The World destination. But in most cases that should still be more than enough for even the longest of holidays.
Those who need unlimited data when abroad have the option of purchasing a data passport add-on which costs £5 a day. That gives you unlimited data in 89 countries across the world. Find out more here.
Can I use Go Binge with an unlimited data plan?
Go Binge comes with all unlimited data plans, so you can tether Netflix, Apple Music, Snapchat, Soundcloud, Deezer and TV Player without using any of your tethering allowance. You can also use Go Binge in Go Roam destinations, although in European destinations Go Binge will count towards your 12GB fair use roaming allowance.
Three have less control over speeds and availibility of services so can't guarantee the same level of performance you would get in the UK.
Where can I use my data?
You can make use of your unlimited data plan UK mobile anywhere in the UK, just as long as there's coverage, which in most cases there will be, as 98% of the UK population receives 3G coverage and over 98% can get a Three 4G signal. You can also use it outside the UK free in Go Roam destinations, subject to the cap detailed above. Go Roam is expanding its reach all the time, but if you want to use data somewhere where it isn't currently offered roaming charges will apply.
Can you get unlimited mobile broadband plans?
The only UK mobile network to offer mobile broadband plans with unlimited data is Three. Currently, you can get unlimited data with a Huawei Mobile WiFi dongle, or a HomeFi Home Broadband router for just £22 on a 24 month plan.
There are also a couple of alternative solutions you might want to consider.
One is to order one of Three's unlimited SIM voice plans above and put them in a Mobile WiFi dongle to tether internet with other devices. You won't be able to use the minutes, or texts allowances but you will be able to tether unlimited data.
Another option is to use your phone to tether unlimited data to other devices but be aware that tethering uses a lot of battery power, so you'll need to keep your smartphone plugged in or charge it frequently.
What is TrafficSense?
TrafficSense is Three's management of data traffic and is a way of ensuring the best possible mobile internet experience is given to users.
In general you won't notice this at work, the aim is to give you a smooth experience and if that's happening then TrafficSense is doing its job. However, in order to achieve that some types of data use will see small restrictions at certain times. For example, between 8pm and 11pm a certain amount of bandwidth will be allocated to Pay As You Go tethering, ensuring that the use of those services doesn't hamper general mobile internet performance.
TrafficSense may also be noticeable in times of heavy congestion or network faults, at which point restrictions and prioritisations may be used to ensure the network continues to run smoothly.
Are there any restrictions?
The only restriction apart from the roaming ones outlined above is that unlimited data plans aren't permitted for commercial use. If data usage reaches 1000GB in a month Three may investigate whether commercial use is taking place. However for non-commercial use it's very unlikely that you'll ever get anywhere close to the cap, even if you use your phone as your main or only internet device.
---
The information contained on this website has been written to assist our readers. We do not represent Three or speak on its behalf and are entirely independent of Three.