Three Essential Plans
Introduction
Everyone's different, and so not all mobile plans fit all people. Three's recognised that with its Essential Plans, which strip out some of the extras you might not be using and just give you the basics to save you money – but with a few premium features and the flexibility to further tailor them to your needs.
We've created this guide to help you get to grips with just what an Essential Plan does and doesn't offer, plus the key fine print you might want to know.
Our guide is split into a number of distinct sections, so check out the contents below if you know what you're looking for, or read through it in full to become an instant expert.
Contents of the rest of this document
1. What is an Essential Plan?
2. Pay Monthly Essential Plans
3. SIM Only Essential Plans
4. Add-ons
5. Charges
6. Other things to know
1. What is an Essential Plan?
An Essential Plan is a plan that focuses on the essentials, primarily giving you a monthly allowance of minutes, texts and data. But you do still get some extras, including 4G at no extra cost, free Wi-Fi on the London Underground, so you can text, talk and web browse during your commute, and access to 4G Super-Voice, so you can power up your voice calls with 4G.
Essential Plans aren't completely devoid of premium features then and ensure you can make the most of your data allowance.
What you don't get is personal hotspot support (also known as tethering) and access to Feel At Home – so you get charged Three's standard roaming rates when abroad.
Essential Plans also don't include free calls to Three customer services, instead they'll come out of your allowance of minutes or be charged at your standard out of allowance rate if you've used them up.
So these plans are ideal for those who don't tether or travel abroad much, as you're not paying for features that you don't use. However, Essential Plans are flexible too. You can set limits for minutes and data and get text alerts when you're nearing them, so you don't get any surprise bills.
You can also choose between a Pay Monthly or SIM Only plan (both of which are detailed below), change your plan either temporarily or permanently and add a personal hotspot allowance if you later decide you want one.
That flexibility means the only major thing you'll never be able to use with these plans is Feel At Home, which given their low prices seems a more than fair trade-off if you mostly use your phone in the UK.
2. Pay Monthly Essential Plans
Pay Monthly Essential Plans are much like standard Pay Monthly plans, in that you get both an allowance and a phone over a minimum term of 24 months.
You can choose between 500MB, 1GB, 2GB, 4GB, 8GB, 12GB or 30GB of data and 300 or unlimited minutes, with all plans also including unlimited texts.
Your monthly charge will of course be higher the more data you choose and the exact cost will depend on what handset you choose and how much you pay upfront, but it will be cheaper than an equivalent 'normal' or Advanced Pay Monthly plan, as it won't have certain extras like Feel At Home.
As such a Pay Monthly Essentials Plan is ideal if you want a new phone but don't want to pay more than necessary.
3. SIM Only Essential Plans
SIM Only Essential Plans don't include a phone, but they're cheaper and even more flexible than Pay Monthly Essential Plans.
For one thing they can be either one or twelve months in length, so you don't have to stay tied in for a long time. They also come with a wider range of voice allowances. You can see a breakdown of all the possible allowances and prices in the chart below.

*Monthly charge includes £5 discount for paying by a recurring method, such as Direct Debit.
Note that the plans overall are similar to the Pay Monthly Essential Plans, but with no 12GB option and different voice allowances.
4. Add-ons
While Essential Plans only come with the basics (plus 4G Super-Voice and free Wi-Fi on the London Underground) it's possible to add more to them. For example, you can add more data, which will last for a month. See the table below for details of amounts and pricing.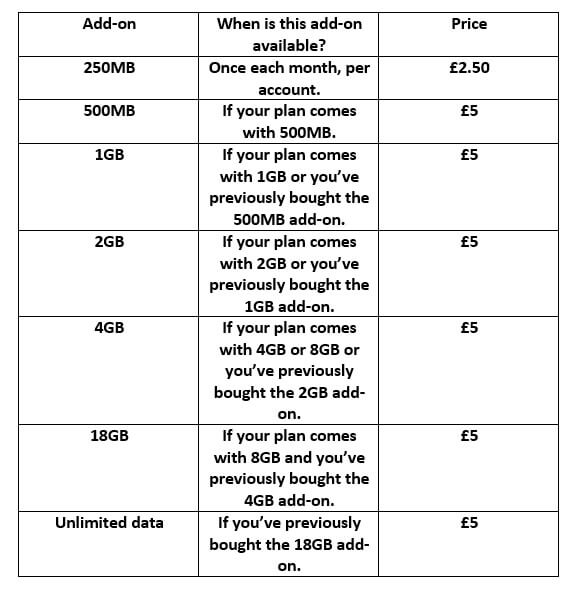 This data still can't be used for a personal hotspot (tethering) but you can separately buy an allowance for that. These also last one month and you can get 1GB for £5, 3GB for £7 or 6GB for £8.
You can also buy an 'International Saver' add-on, which costs £15.32 per month and gives you 3000 minutes which can be used to call landlines or mobiles in Canada, USA, Puerto Rico, China, Hong Kong, Singapore and Thailand when calling from the UK.
They can also be used to call landlines (but not mobiles) in Australia, Austria, Belgium, Denmark, France, Germany, Ireland, Italy, Japan, Luxembourg, Malaysia, Netherlands, New Zealand, Norway, Portugal, South Korea, Spain, Sweden, Switzerland and Taiwan.
If you want to change your price plan long-term, rather than simply attaching a monthly add-on, you can do this from your My3 account.
5. Charges
Special numbers and directory enquiry services are in many cases not covered by your standard Essential Plan allowance. 0800 and 0808 numbers are free, but for everything else head to the call checker to see the latest up to date charges.
As Feel At Home isn't included on Essential Plans you'll also be charged extra to use your phone abroad (or to call or text internationally from the UK).
Roaming is switched on automatically however, so you'll be able to use your handset abroad straight away.
Exact charges will depend on the type of use and what country you're in, but you can head to the roaming page for full details. Note that data roaming is capped at £39 per month, to help you avoid racking up high charges, but if you'd prefer to have this limit removed you can do so by calling Three's customer services.
Note that unless you tend to roam a lot or call a lot of special numbers an Essential Plan could still work out far cheaper than most mobile plans, since they're charges that are easy to avoid.
6. Other things to know
Allowances don't roll over, so any unused minutes, texts or data will expire at the end of the month.
Essential Plan SIM cards can only be used in phones. If you want a SIM for a tablet or mobile broadband device you'll need a plan designed for that.
Looking for information for Thrree's Advanced Plans : Three Advanced Plans