With Motorola now owned by Google, the Moto G is a bit of a surprise, since Google already uses the Nexus line for great value phones, so the Moto G could be seen to be competing with other Google devices, such as the Nexus 5.
Thankfully the £135 Moto G is just different enough from its Nexus brother to stand up on its own two feet and it's a cracking little phone too.
Design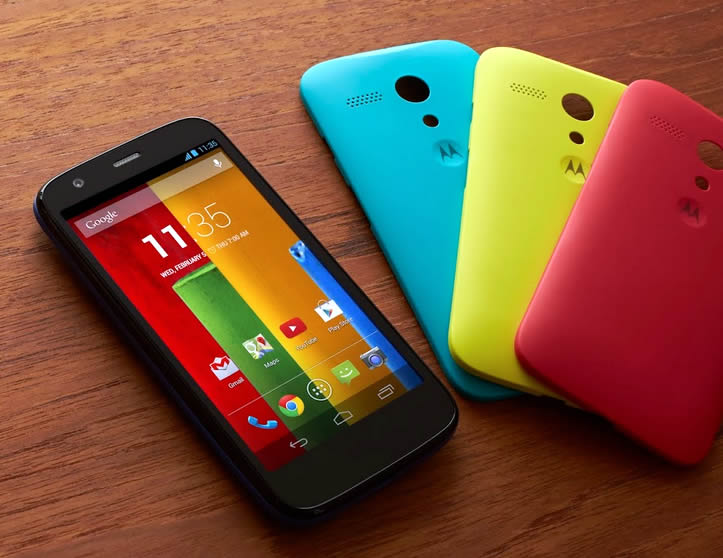 The Motorola Moto G won't be winning any design awards, but that's not to say that it looks bad, more that it just looks functional. The front of the phone is just a sheet of glass, like so many other handsets, while the back is made of plastic.
However this isn't the cheap, flimsy plastic that some phones get stuck with. It has a soft, matte finish, which makes it comfortable to hold and has none of the coldness of standard plastic.
The back itself is all one colour, though there are a number of options to choose from and they're interchangeable, so you can buy multiple back covers if you like. Whatever colour you go for though the whole thing looks quite plain. It won't stand out as either a good looking or an ugly phone.
At 11.6mm thick and 143g it's not the slimmest or lightest phone around, but it doesn't feel overly chunky either.
Performance
The Motorola Moto G has a 1.2 GHz quad-core Snapdragon 400 processor and 1GB of RAM. That's one of the ways in which it stands out from the Nexus 5, as while the Nexus has high end specs, the Moto G is rather more mid-range, but it's a slick performer none the less.
Getting around the menus and launching apps is as smooth as you'd hope and it even copes pretty well when playing high end games, so you're unlikely to find yourself wishing for more power.
Unfortunately there's no 4G, so if you don't have a Wi-Fi connection then web browsing, streaming and downloading won't be quite so fast or smooth.
Display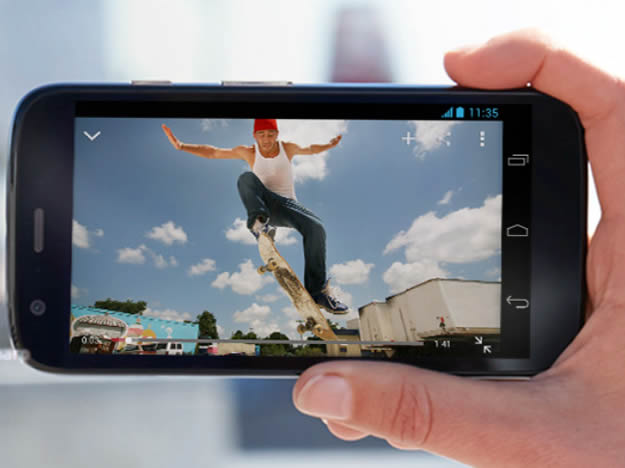 The Motorola Moto G has a 4.5 inch 720 x 1280 display with a pixel density of 326 pixels per inch. That's the same pixel density as an iPhone 5S and a bigger screen to boot. It's not quite full HD, but visuals look crisp and colours are rich so there's really not much to complain about.
4.5 inches is a pretty good size too, big enough to comfortably web browse and watch videos on but not so big that it sacrifices portability.
Camera
The camera on the Motorola Moto G is only 5 megapixels, which is presumably one of the corners that was cut in order to get it down to such an appealing price. As 5 megapixel cameras go it's absolutely fine, taking reasonable quality images, particularly in good light and packing in a bunch of different modes such as HDR and panorama.
However when compared with shots taken on the 13 megapixel Galaxy S4 or the 20.7 megapixel Sony Xperia Z1 the Moto G's images clearly come out lacking.
There's also a 1.3 megapixel camera on the front and it can shoot 720p video at 30fps.
Other features
The main selling point of the Motorola Moto G is its astoundingly low £135 price tag, so there aren't many extra features. It runs Android 4.3 with an update to 4.4 due in January and it's very close to the stock version of the OS, so in many ways, branding aside this is like a mid-range Nexus phone.
The Motorola Moto G comes with a choice of 8 or 16GB of storage but unfortunately there's no micro SD card slot, so no way to boost that, though you do get 50GB of free Google Drive storage. It supports Wi-Fi, 3G and Bluetooth 4.0, but there's no 4G and no NFC or infrared.
The Moto G does pretty well for battery life though, with its 2070 mAh battery keeping it going for around two days with moderate use.
Conclusion
The Motorola Moto G is a fantastic phone for the money. No other handset gives you close to as much for just £135, in fact you'd probably have to spend at least twice as much to get any other phone that offered as much as the Moto G.
It's a shame the camera isn't better and the lack of 4G and micro SD card slot will bother some, but really for such a low price the Moto G is an amazing achievement and it's easily the best value smartphone available.