Here's a phone that has reached the pinnacle – the Galaxy S4 pauses the film you're watching if you look away, can scroll down a website if you move your head – and you can even see snippets of links just by hovering your finger above the display – it's almost magical.
Smaller – and better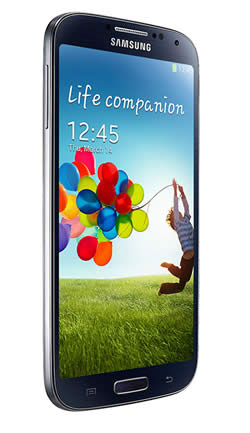 The S4 follows on from the S3, which we have already named five-star handset of 2012, but Samsung has managed to make this new release even better. Samsung has started with the S III as its guide and added even more features, while making the hand set itself slimmer and lighter.
The display now measures five inches, the handset is 3g lighter and measures 7.99mm, compared with the S III's 8.6mm measurements. Yet the battery is bigger – now 2,600mAh rather than the S III's 2,100mAh.
Anyone who was hoping that Samsung would have produced a phone that is less plasticky will be disappointed – but even though it has a plastic chassis, the S4 does feel solid. The reasoning behind this is, apparently, that Samsung's customers want a replaceable battery and SD card slot, which the polycarbonate plastic chassis allows.
If you're familiar with the S III, you'll see the design hasn't altered greatly. The S4 looks very like its predecessor – right down to the physical home button. Take a closer look though and you'll see there are some differences, including the bigger display, a slightly squarer body, and the fake metal band around the handset is the same width all the way round. Also, the camera on the back has been placed in the centre.
Fabulous features
The Galaxy S4 has an amazing array of features to delight the user. To be fair, some of them are not much more than gimmicks at the moment, but it's early days. Smart Pause puts the video on pause should you look away – it's a little hit and miss at the moment, especially as nobody stares at the screen relentlessly while watching a movie, so you get a few unwanted pauses. So it's not perfect, but it's a sign of where the technology is heading – maybe in future we'll see automatic zooming when you're struggling to read text on a website?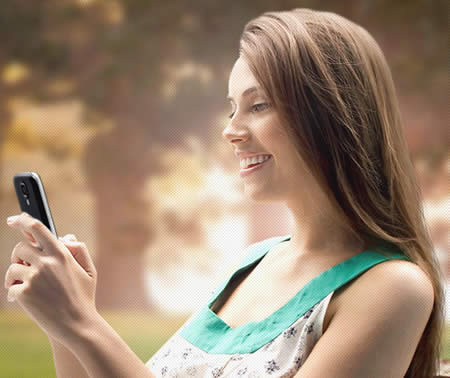 But many other features work really well – air gestures are a favourite for us. If you handset is dormant, hover your hand over the front and a screen pops up showing the times and whether you have any missed calls, texts or messages. Much more polite than picking up the phone when you're chatting with friends.
You can also scroll websites just by a flick of your hand – handy if you're reading while the handset is propped up. Air Browse lets you flick between tabs by swiping left or right with your hand – and it can be used with photos and music. You do need to make sure your movements are exact to avoid errors, but once you get the gestures sorted it is very smooth.
Our favourite, though, is Air View, which shows information as you hover a digit over the display. You can point at a photo album folder to get a preview of the photos inside, or hover over a video progress bar to see what is going to happen later. But the best bit is when you're emailing. Hover over an item in the inbox, and you'll see the first few lines of the email, without having to open and close messages. The Galaxy Note 2 had this feature, but you needed to use the stylus to make it work.
Let me entertain you
While Samsung had retained the ability to copy content to other devices using Wi-Fi, as well as NFC support, the Galaxy S4 has taken a new approach to home entertainment. Use WatchOn to connect the phone to a TV service provide and the handset becomes a remote control and EPG.
It's not the only phone to offer a TV remote facility (the HTC One does), but this is a very fluid facility. Choose your service – Freeview, Sky or whatever – choose the manufacturer and you're off. There's an electronic programme guide where the user can choose a programme to view, set an alarm reminder, schedule a show to watch later – you can even share what you're watching with your mates. You can also use it as a fully-functioned remote control – it works well and we found ourselves using it constantly. If your remote always goes missing, this is one feature you will find really useful.
Not-so-Smart
The eye-tracking software is not so impressive. Smart Stay has appeared on other Samsung devices – it ensures the screen is on while you're looking at it, rather than going into sleep mode. It works well, but is not so impressive when used with video. Nor is Smart Scroll so consistent – it's fantastic to control a website using your head, but the phone does tend to lose track of what your eyes are doing and you'll suddenly find yourself reading something less than thrilling, like a feature on the Norwegian lather industry!
Picture perfect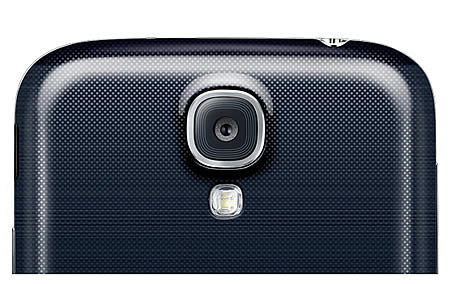 The camera on the Galaxy S4 proves itself a great all-rounder, offering something for everyone. It's a 13-megapixel model (the front-facer has 2.1 megapixels) – and snaps came out bright and sharp and were taken with hardly any lag.
There's a whole host of options to be found using the Mode button, which appears on the camera display. Some features are more useful than others, but they include the likes of Dual Camera – this lets you use both front and rear snappers at once, which means you can insert your face into a photo, and move it around to place it where you wish.
Best Photo snaps eight pictures in quick succession so you can choose the best one. Best Face is similar – take five images and you can mix and match the best faces, great for taking group shots and avoiding gurning and blinking.
Drama Shot lets you take pictures of a moving object – for instance, someone jumping off a wall. Your final image will show them taking off, landing and the drop in between. Sound & Shot combines an image with a short sound recording, and Animated Photos turns a snap, or part of a photo, into an animated feature,
Finally, Eraser lets you get rid of anything that comes into the frame while you're taking a photo. You may not use all the features on offer, and some of them seem a bit pointless, but the fact remains that the camera offers good results and plenty of creative options.
Screen star
The five-inch screen displays HD video amazingly – it looks fantastic on that extra large display. Put the Galaxy S4 and S III side by side and the difference in screen size is very noticeable. Resolution is 1920x1080, and it's beautiful. The screen is of the Super AMOLED variety, and colours are vibrant, while black reproduction is impressive. Responsiveness can be altered, which means you can even use the touchscreen when wearing gloves – we tried this out with a few different kinds of gloves – it only stopped working when we tried out oven mitts!
Sound is not so impressive – which is mainly due to the positioning of the speaker – on the back of the handset at the base. Sound is muffled by the palm. This is a problem is you're holding the device in portrait mode, although not in landscape, and presumably Samsung assumed that all media would be used in landscape mode.
Make it personal
There are plenty of ways to make the phone your own. Customisation is available at a dazzling level, which may be rather daunting to some users – but the more time you spend with the phone, the more you'll be able to make use of it. However, most features can be turned off, should you decide you're not going to use them.
Alternatively, choose Easy Mode, which takes away all the frills and leaves you with a trio of home screens with widgets for icons, contacts and apps. Handy if you like the idea of a high-end device, but don't want to be fiddling around with loads of menus.
Life companion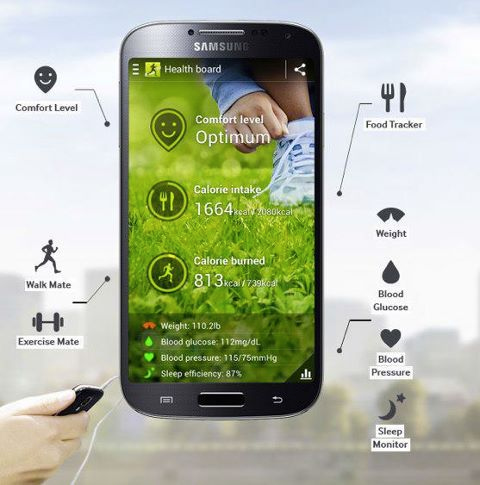 Smartphones are not generally in the business of keeping you healthy, but S Health has been designed to help you make healthy decisions. You can find out the calorie content of certain items, and use the pedometer and graphs to help you decide whether you should walk instead of taking the care, or opt for the stairs over the lift. Having a health app embedded into a device is unusual, but we found ourselves using it often.
You can also enter in all your details – weight, height exercise schedule, and the handset will let you know what weight you should aim for and how many calories you need to take in to achieve it. There are humidity and temperature sensors on the phone as well.
Power house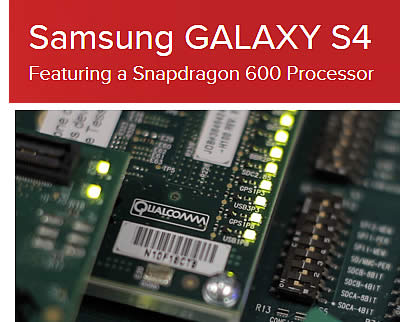 Despite having all these power-hungry features, the large battery means you hardly notice how much power the phone uses. We got an amazing seven hours of video streaming out of a full charge, with Wi-Fi turned on, and screen brightness on maximum. The average smartphone nowadays only manages six hours at most. In ordinary use we got more than 24 hours – with everything turned on, such as GPS, Wi-Fi, Bluetooth, Smart Scroll and so on, we just about got a day out of a fully charged battery.
Under the hood, the Galaxy S4 runs a 1.9GHz quad-core Snapdragon 600 chip, teamed with an impressive 2GB of RAM, which sees the phone offer speedy performance with no lag or slowdown.
Our conclusion
The Galaxy S4 feels like it should be a bigger device, thanks to that blistering performance and amazing power. The S4 does everything the S3 can, and more, and yet within in a smaller chassis. The extra features are useful and fun, and has offered us a thrilling glimpse into the future of the smartphone. The excellent display, fast processor and long battery life allow the S4 to handle anything the user throws at it.