Three Data Reward SIM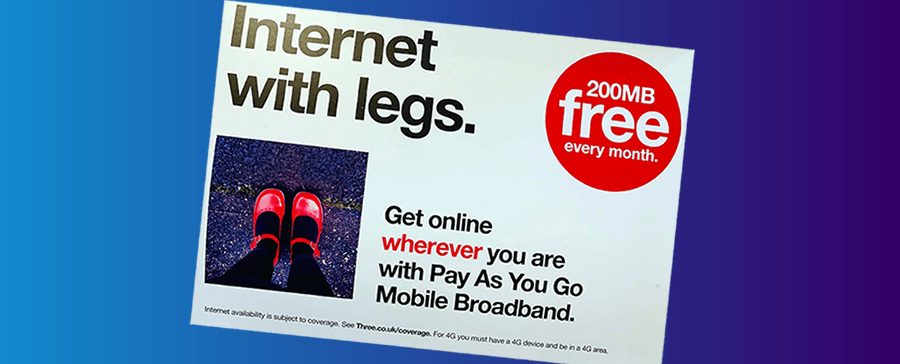 A Three Data Reward SIM is a SIM card on Three which comes with 200MB of free data each month. It's designed for use in devices which only require data such as iPads, mobile broadband devices and tablets.
You need to buy a SIM pre-loaded with data, but after that initial purchase you never need to top-up to get your free data, and you can even use your data abroad at no extra cost in 71 worldwide destinations.
How to get 200MB free data every month?
Follow the 3 simple steps to get your free 200MB data every month forever.
---
1. Order a Data Reward SIM pre-loaded with 1GB data for £10
---
2. Wait for your SIM to arrive in the post. It normally takes between 1 and 3 working days.
---
3. Register your SIM at three.co.uk/freedata and enjoy 200MB free every month forever.
---
Do I need to top-up to get 200MB free data?
No. The Data Reward SIM itself costs £10 and comes with 1GB pre-loaded (valid for 30 days), but you don't need to ever top it up again. Simply register your Data Reward SIM when it arrives, and you will get 200MB free every month.
However, if you do wish to purchase more data once you've used up your free data then the following add-ons are available, each of which lasts 30 days:
Data Reward SIM Add-ons

Add-on

Cost

2GB data

£15

5GB data

£20

10GB data

£25
What can I do with 200MB of free data?
A surprising amount can be done with such a small amount of data including:
Browsing 200 web pages
or making 1000 social media posts
or streaming around 44 songs
or posting 2000 photos to Instagram
Can I use my free data abroad with Go Roam?
Yes, can use it in Go Roam locations, allowing you to get online for free abroad in 71 destinations. That's the full selection, meaning you can roam at no extra cost both in and out of Europe, including popular destinations such as France, Spain, USA and Australia.
However, it's worth noting that on May 23rd, 2022, Three is introducing a charge for Pay Monthly customers. This won't apply to Pay As You Go customers, so presumably won't apply to the Data Reward SIM as that's classed as a Pay As You Go service, but it's possible that charges could be added further down the line.
What devices can I use the Three Data Reward SIM in?
The Three Data Reward SIM is a data only SIM card, which means it's designed for tablets, dongles and MiFi devices rather than smartphones.
You don't need to worry about which type of SIM your device needs because you'll receive a Trio SIM. That's a Standard, Micro and Nano combined, so simply pop out the correct SIM and put it in your device.
What happens when I run out of data?
When you run out of free data you can still pay to use more data at a rate of 5p per megabyte with PAYG credit, or choose an add-on for better value.
You can top up at any time by voucher, through your My3 account or by calling the network.
Three will send you a notification by SMS when you've used up 90 per cent of your data and when you've used it all up or have no credit left on your account.
You can also use your My3 account to check how much data you have left.
What else do I need to know?
Your 200MB of data will last 30 days before expiring and being replaced with a new 200MB allowance. If you have another data allowance in addition to this your free data will be used first.
There's a limit of five Data Reward SIM cards per household and Three reserves the right to withdraw or amend the free data offer at any time.
It usually takes between one and three working days to receive your Data Reward SIM by post.
You can still use the Data Reward SIM even if you don't have 4G or 5G in your area, as long as you've got at least 3G coverage from Three.
---
The information contained on this website has been written to assist our readers. We do not represent Three or speak on its behalf and are entirely independent of Three.